Roni Ben-Hur is a known name in the  jazz guitar world. He has for many years been an active player and teacher on the New York scenne. In addition, Roni has recorded several excellent records. (Check out Roni's "Signature" on Reservoir Records.)
In 1985, Roni initiated studies with the famous bebop pianist and educator, Barry Harris and this has highly influnced his approach to the guitar. Talk Jazz adapts much of Barry's improvisational approach to the guitar in a series of single note exercises. I purchased the book in 2008 from Roni's web site and it is 268 pages of serious excercises. Talk Jazz has been part of my daily studies since then and I have worked through the entire book several times and continue to do so.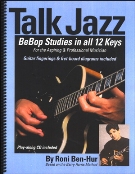 What is great about this book is that is an alternative to building "chops"  with out running through a lot of unmusical scales. I particularly like the minor and major sixth diminished exercises. The surround note exercises and the arpeggio studies are also favorites.
Mel Bay published a truncated version of the book which is widely available on the market but I would try to get your hands on the original version with all 12 keys notated. Highly recommended!